Nancy Kitaka Donates Holic Sanitary Pads to MildMay International Hospital
By Reporter
Earlier today, as a way of joining the entire world to celebrate the Worlds AIDS Day, Nancy Kitaaka in partnership with Holic pads donated sanitary pads to the HIV inwards and outwards patients of Mildmay International HIV Specialist hospital. Nancy Kitaka, a nurse in the United Kingdom who has worked with Mildmay International HIV Specialist hospital, atop working with Positive East, Terrence Higgins, among other UK based HIV Charities, remotely orchestrated the donation from UK.
Speaking during a phone call, Nancy Kitaka who wasn't in the country at the time of the donation explained to the press that the donation is an extension of the Pads For All Campaign, a campaign geared towards providing sanitary pads to under privileged teens in Uganda.
To hand over the donation of the pads was the Ugandan ambassador for the Pads For All Campaign, musical artiste, Kizito Ivan Tony alias Sama Soja, together with Ghetto Kids dance artistry star, Patricia Nabakooza, who were received by an elated Yvonne Karamaji of Mildmay International HIV Specialist hospital Uganda.
"We thank Holipads and Nancy Kitaka for the timely intervention. By donating to our patients here at Mildmay International HIV Specialist hospital. with sanitary pads; they have added many bricks to the fighting of HIV AIDs. The most devastating effect of Covid19 on our economy has been the loss of income. Factor in the fact that students are returning to school and the families have less income, and you realize how sanitary pads can easily be disregarded in low income families. We therefore thank Holipads for the initiative, and hope that they come back," explained Yvonne Karamaji.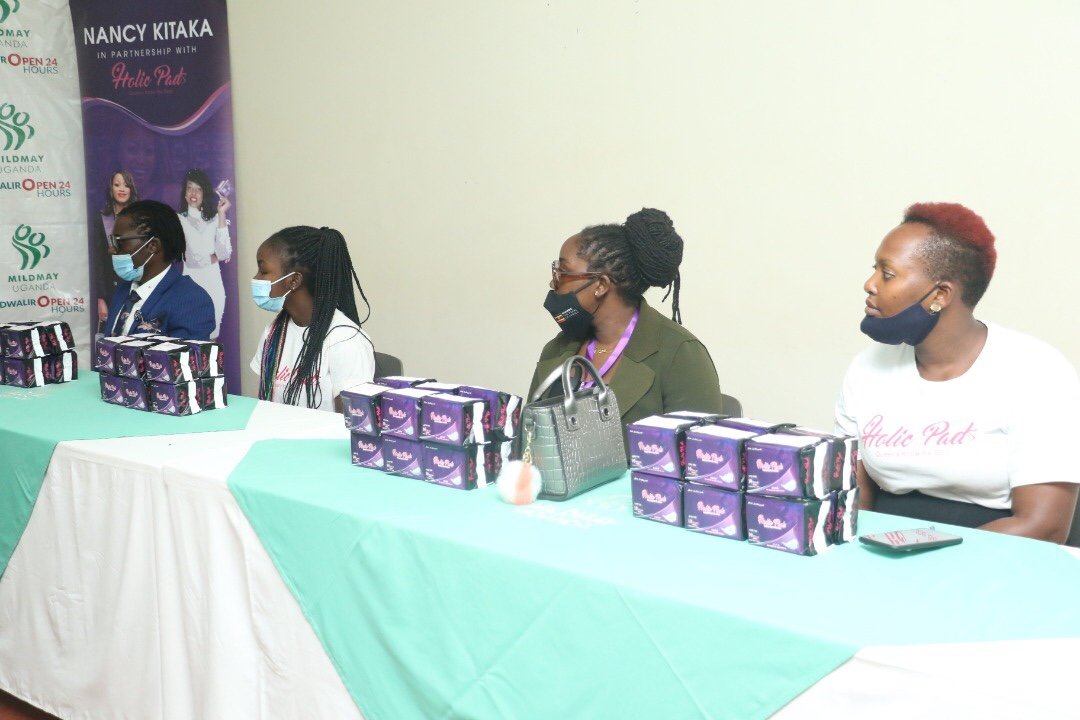 Dance artiste Patricia Nabakooza, renowned for her work with the Ghetto Kids, explained that she, as an Ambassador of Holic Pads had already interfaced with some of the challenges that Ugandan teenagers experience during puberty.  
"I have witnessed firsthand, the many problems that teenagers go through at school when coming to terms with the changes in their bodies. Often, they lack information about how to deal with the body changes, but many lack sanitary pads. It is even worse for those with ailments such as HIV Aids.  The teachers are also not that helpful, as they obliviously cultivate the stigma about body changes in girls, especially the Menstruation Period.  That is why I am passionate about working with Holic Pads and Nancy Kitaka to make sure that many girls across Uganda receive pads," explained Patricia Nabakooza.
Mariam Jumba, a brand Ambassador of Holic Pads said that the donation is merely a call for many across the world to join the fight to help girls who can't afford Sanitary Pads access them.
Yet while giving credit, she also mentioned that part of the donation was facilitated by Old Students Of Budo Junior School class P7 1990, Miss Pride Of Africa London, JF Solutions London Pier, One Night Spot London, Jose Job Links London & Virtual Interment London. They donated about 50boxes of sanitary pads to help girls who cannot afford them at even any cost .
The post Nancy Kitaka Donates Holic Sanitary Pads to MildMay International Hospital appeared first on BigEye.UG.